El Scratcho.
We love Hastings very much. She's my little darling, and so cute and friendly.
However, she appears to have started filing her claws into sharp points, which is causing a little in the way of, well, bleeding for us fragile humans.
This is what she did to Matt's elbow last night.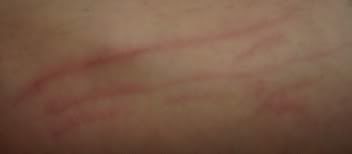 We both have all sorts of weals and scratches all over our arms - she doesn't pay attention to balancing, so when she starts to topple off, she just digs her claws in - and, since she likes to go down my jumper, I've today discovered some serious scratches across my cleavage.
So what do we do? I feel highly uncomfortable clipping her claws, especially since she's so hyper and wriggly. I don't want to accidentally take off one of her toes or anything. I suggested lining her exercise ball with emery paper, but Matt just looked at me oddly.
Any useful suggestions would be highly appreciated.
Next time on the blog: talk about my birthday!