Am I going to hell?
Today it snowed, and we built a snowman. There is a certain moral debate going on in my head about whether, in an area with a lot of young children, we should have made the shot-through-the-eye snowman.
Oh well.
Note the strategic use of red paint.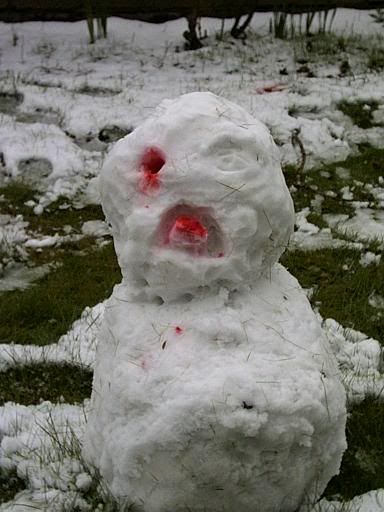 Exit wound with blood spatter.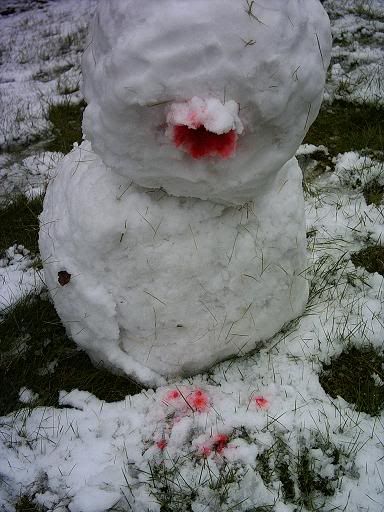 Close-up.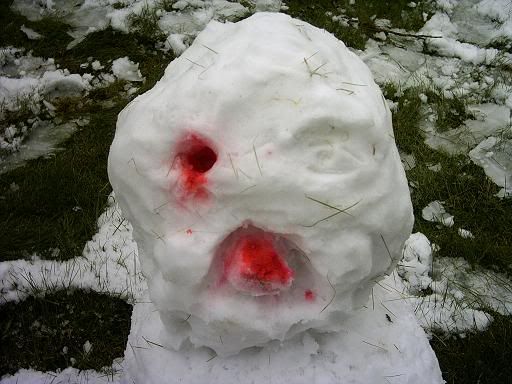 Matt and the Dead Boy.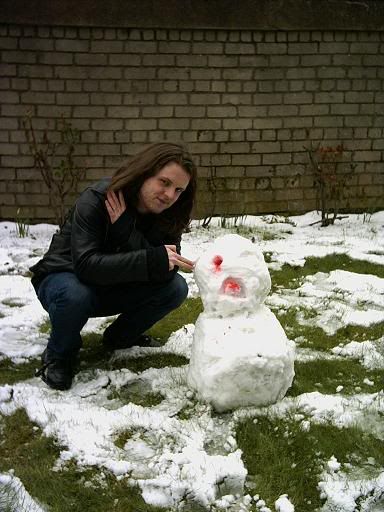 Yes, I know. I'm a sick, sick girl.
Oh, and possibly because I had a tiny bit of sugar, I spent most of the day saying inane things (You: No!
Really?
But you're usually so pithy and concise! Me: Yes, I know!) and then shushing myself. Out loud. Involuntarily. It wasn't so bad (if you ignore the mockery from the husband) up until the point I said something random, shushed myself jokingly, and then immediately went Shhh!, putting my finger to my lips. I didn't mean to shhh. It just came out. So there you go.
Last night was Movie night at my sister's house again.
A Bucket of Blood
,
Queen of Blood
, and
Night of the Living Dead
were watched, many jokes about blow jobs were made (oh, so very mature), various foodstuffs and alcohols were consumed, and we tried to zip my arms together, but it didn't work.
And I think you mostly know the whole small explosion/tad of being on fire story, so I'll skip that for now.
Yesterday was Birthday of the Sultan of Selangor (Malaysia), and today is Crown Princess' Nameday in Sweden.
Oooh, me finding that daily celebrations webpage was a bad plan.
Toodles!