Land of a million biscuits...
*WARNING: DULL POST AHEAD*
We didn't do much this weekend. Stayed up late watching rubbish on TV, reading, or chatting online. Getting up late and going to buy biscuits, because I am very influenced by what I read (A Nice Cup of tea and a Sit Down) and a biscuit barrel.
Here's something I learned: twelve packets of biscuits will not fit into the average large-ish biscuit barrel. We have Hobnobs, chocolate digestives (both with caramel and without) and Ginger Nuts safely ensconsed, but the others are open to the elements. Barring the Jammy Dodgers, which Matt has long since devoured like a wolf.
Oooh, that was a long bit about biscuits. Don't say I didn't warn you.
Yesterday, we went on the
Ghost and Ghouls tour
around Edinburgh, ending up in the vaults under South Bridge. It was pretty good overall (and they take you to the pub for a drink at the end, huzzah!), but there were two bits I didn't like. Firstly, I thought the stories would have been creepier if he didn't occasionally shout to startle us and, secondly, the mention of 'ghost orbs' showing up in pictures taken in the vault made me laugh for some time.
All in all, it definately prodded buttock, if not 100% kicked ass.
And, in other news, I HAVE PURPLE HAIR!
So here's a really rubbish picture of the top of my head to show it.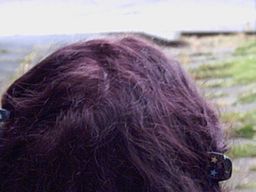 If you've got this far without falling unconscious, CONGRATULATIONS! Here's a biscuit.