Rock the kazbah... er... the very foundations of the BDP
So, literally half an hour after I finished the last post, Matt and I discovered a huge, but clearly adolescent, seagull obviously and lumpily dead under the BDP.
There were also three other adolescent seagulls lurking on the pavement next to the Bridge. One of them was dragging its right wing.
Seems there has been ferocity at the BDP.
Young 'uns.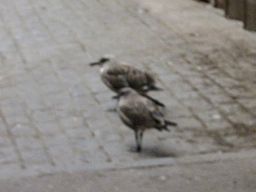 Injured 'un.
Dead 'un.