Camping Extravaganza!
Day One
We arrived at the camp site – not as small as we'd imagined, but the tree-surrounded corner for tents was very pretty. Nice and quiet, too, and right by the river. We put up the tent rather slowly, with lots of interruptions for
looking-at-the-river
and
going-to-see-the-donkeys-in-the-next-field
. Luckily, we had two mallets (or as they're also known, my shoes), so once we got going the pegs went in quite quickly.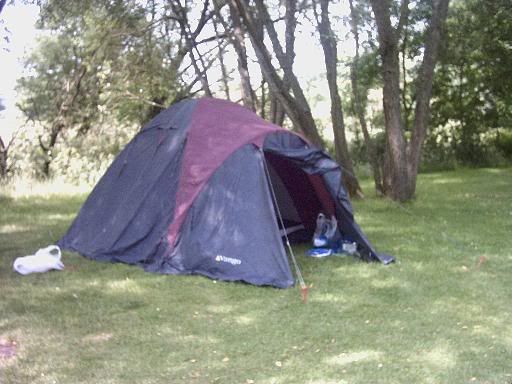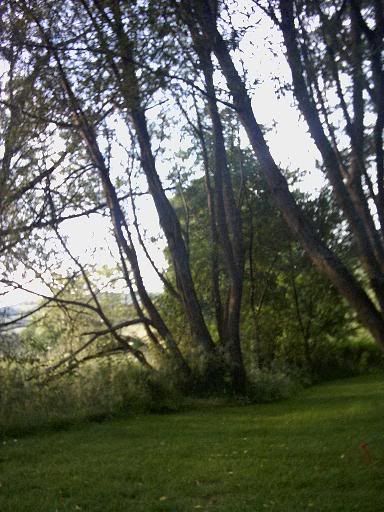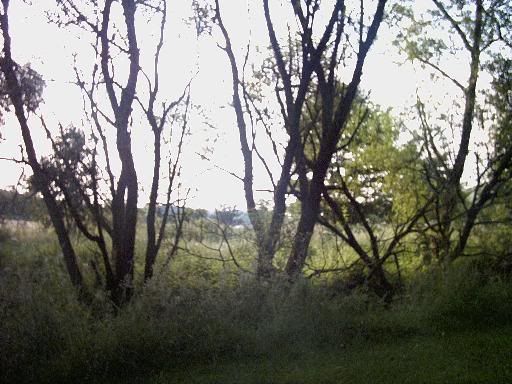 We did all the usual stuff; got water, made tea, lay about on a rug being covered with little green aphids… somewhat of a template for the entire holiday.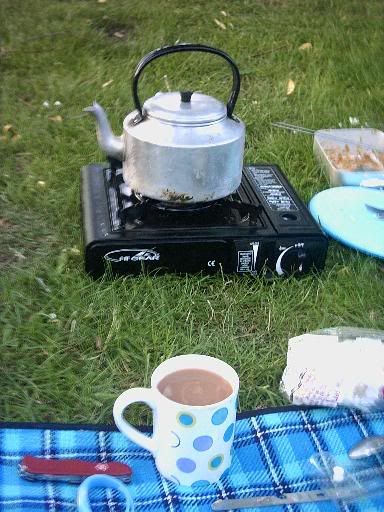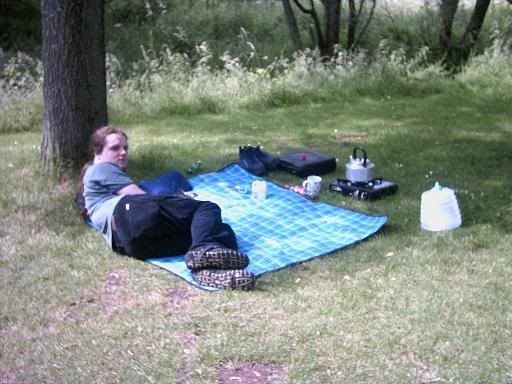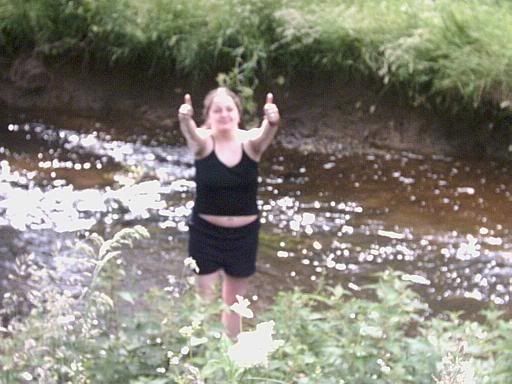 We were the only people there at that point, but then three more tents turned up. With people, obviously. They weren't sentient. Hmm, sentitents. The latest in camping design!
Anyway.
A couple put up their tent opposite us, and we didn't like them immediately. I don't know why. Possibly it was because she was wearing white shoes. How shallow. But we then discovered that they weren't very nice to the dog that was with them, so it was ok to dislike them. There was also a massive tent put up by a family with three kids. They had a TV and stereo in their tent. What the Dickens? What sort of rubbish camping is that?
Matt did the washing up and lost my favourite folding knife. Much beration followed.
We saw a flock – well, 4 or 5 – of what looked like buzzards. Do buzzards flock?
There were bats. Bats are so very cool.
Matt managed to make toast over our little gas ring. It was a very impressive system of pulleys and winches and… um… Spam tins and skewers and stuff. It was, as I said, very impressive, and the toast was lovely. Plus, we had our first taste (no pun intended) of wildlife, when we found a caterpillar in my dinner. Matt made his usual joke about protein.
We discovered the batteries we'd taken were
shite
. Just about the time it got dark. That'll teach us to buy cheap batteries.
Flies in drinks today – 9
Total book count – 2
Day Two
We had Spam and bacon for breakfast, with ketchup and bread. Yummy. Outdoors. Yummy.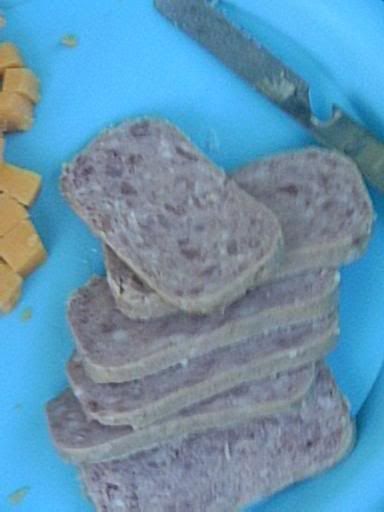 Spam when raw looks and smells like dog food. However, cooked it is yummy.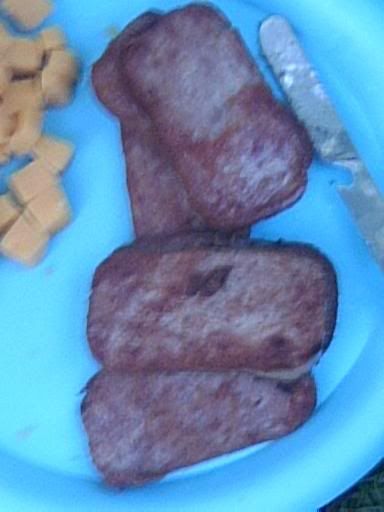 Then we went up to the little shop at the campsite and found that someone had handed in my little knife. Huzzah!
We went into bustling Peebles today. It truly is a pretty place, and very much enjoys and deserves its description as the 'New York of the Borders'. If it had ever been described as that. Which I doubt.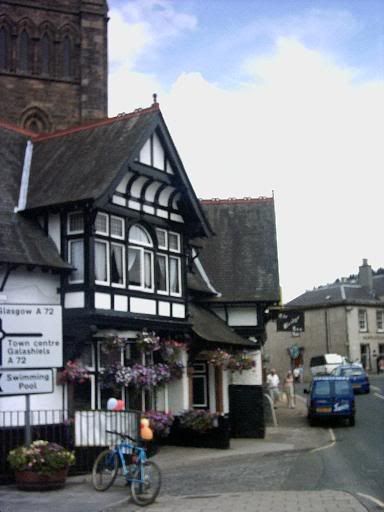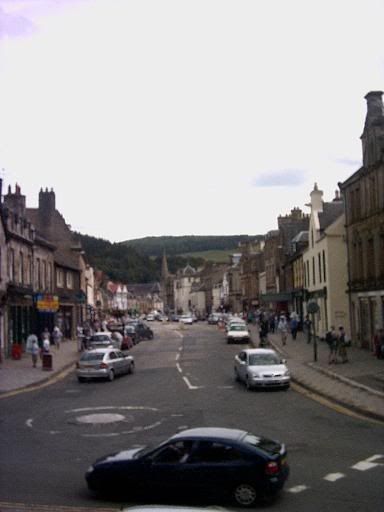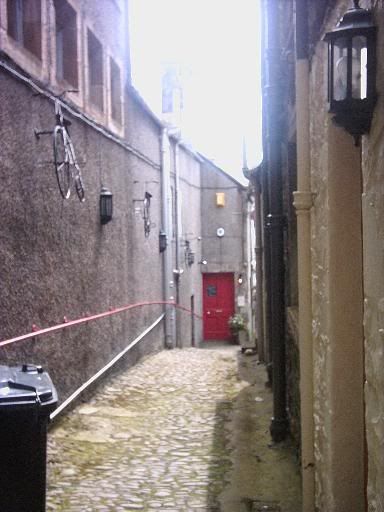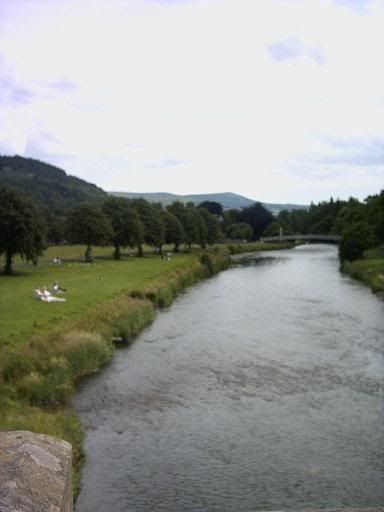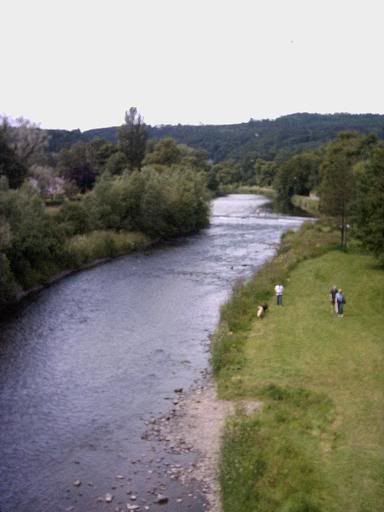 We got back around mid-afternoon and spent most of the rest of the day lounging about.
We tried playing Frisbee for a bit, but within two minutes I had accidentally thrown it into the river and Matt had to go and wade up to get it.
Matt then spent quite some time damming the river. He does this anywhere there is a stream or river. It's pathological.
I mean, don't get me wrong, I enjoy a bit of damming, but he gets really into it.
We had a bit of a barbeque, lit some giant anti-midge candles, and watched some bats, and what we think were Swallows or Martins.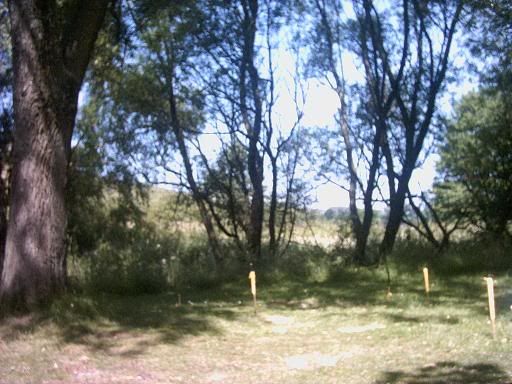 We then went and traded some wax sculptures (drips) with some of the children, who had given up their army game and were running a thriving market within the rhododendron bushes. We gained such exciting wares as berries, stones, and sticks.
Later on we met some boys with poi, and had a couple of beers.
There are bunnies living at the camp site. Yay!
Flies in drinks today – 11
Total book count – 4
Day Three

In the morning we went into Peebles again, in order to visit a car boot sale. Trust us – we're camping with no electricity, and we buy videos and DVDs. We got
Urban Legends 2, Dawn of the Dead, Blood Gnomes, The Sideshow, Blair Witch,
and
Children of the Corn
. All for £6! Collecting horror films is a hobby of ours. Bad horror films especially. Which reminds me – if you get a chance to watch
Voodoo Academy
,
TAKE IT
! It's hilarious.
I tried have a nap on the rug in the afternoon. It went well, up to a point. Every time I drifted off, I'd be woken by a beetle on my arm, or a caterpillar crawling across my foot.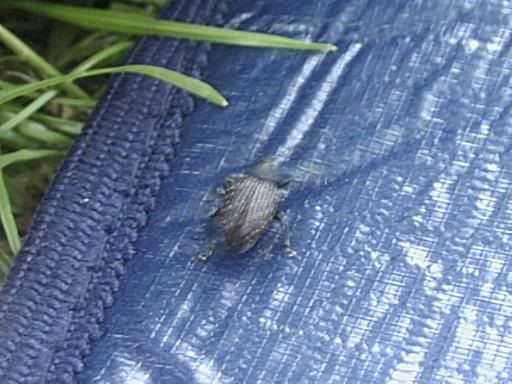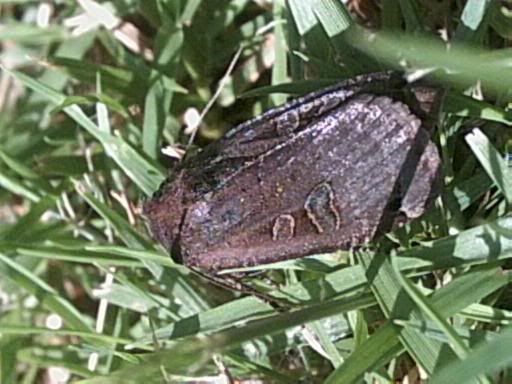 I eventually retired to the tent, where I fell asleep and promptly had a dream about a friend of mine committing suicide in front of me, after which Matt and I went to see LaMa, who lived on a farm and ran a cottage industry.
During my nap, Matt was damming.
I am being eaten alive by midges. For some reason, they ignore Matt, but love me. I am all over bites. This is despite the candles and anti-midge cream. Thank the lord for Anthisan, that's what I say.
We decided to have a go on the little kids' play park whilst there were no children there. I was promptly beaten up by the netting, and limped back to the tent in defeat.
Luckily, there was a lovely sunset to cheer me up, and Matt spent a while trying to set fire to what I can only describe as a 'big fuck-off stick'. Sadly, there are no pictures of this, as my camera can't cope with that level of contrast. Suffice to say, it was very endearing.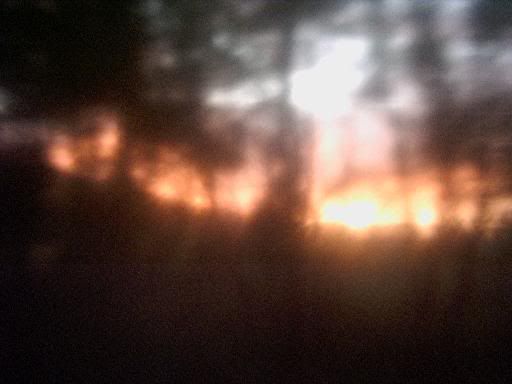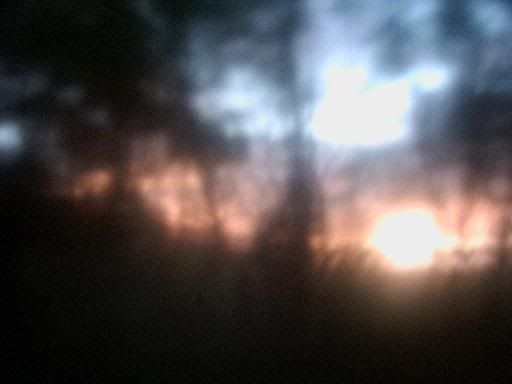 Flies in drinks today – 6
Total book count – 7
Day Four

Matt has become crispy on the outside and tender on the inside (Yum!), thanks to his combination of sunburn and hayfever. I am becoming as tanned as toast. It was a very hot day.
We invented a new game today. The 'games room' had only a table tennis table, so we had to come up with something. We are also unable to play any game normally, and always have to come up with extra rituals and rules (remind me to tell you about Flameball).
So. Do you find Ping Pong boring? Do you feel that it has too many boundaries and not enough violence? Well, why don't you try
X-TREME PING PONG!


Equipment
X-Treme Ping Pong features a square-ish room with a ping pong table diagonally in the middle, and chairs, tables and video game machines arrayed around the edges. The floor should be made of wood. There is no net. Players, of which there may be no more or less than two, each have a ping pong paddle, preferably with the glue wearing away so the rubber bits flap about.
Rules
.
Each player has an approximate half of the room. Imaginary lines may be drawn if wished, but are not necessary. Service starts in the same manner as normal ping pong. The idea is to make the ball stop bouncing – to either roll or stop – in the opposition's half of the room, scoring you one point. Hitting it under chairs and tables is encouraged, as it needs skill to get it out whilst it's still bouncing. Hitting it behind or beneath games machines is discouraged, due to the difficulty of retrieval. Bouncing it off walls, ceilings, doors, lights etc is considered good play. Hitting it in the opposite direction to where your opponent is placed is also considered worthy. The game ends at a pre-agreed number of points, or when one of you tears a ligament or drowns in their own sweat.
We hope to get this into the 2012 Olympics, where special safety gear may have to be insisted upon, as I've completely buggered both my knee and ankle whilst playing.
This goes well with my all over bruises. I hate the feel of bed rolls, so we're just sleeping on the ground, but I hurt all over. It doesn't seem to stop me sleeping, though.
Speaking of sleeping, I was having a quiet lie-down on the rug after X-Treme Ping Pong, sat up, and found a caterpillar on my forehead. Huh.
We went on Bunny-watch before bed. We saw 40 bunnies. Huzzah!
Flies in drinks today – 7
Total book count – 10
Day Five
We were supposed to go home today, but gave into temptation and booked another night.
We went for a walk along the river. The foliage was beautiful and lush, and it was a perfect Scottish day.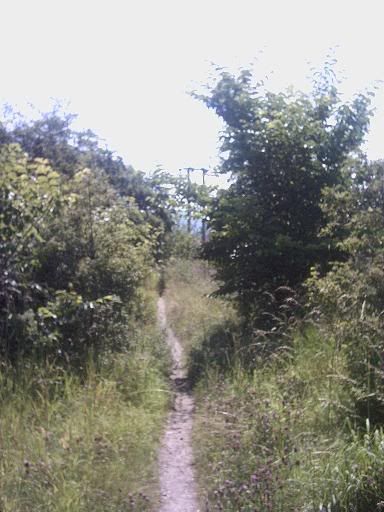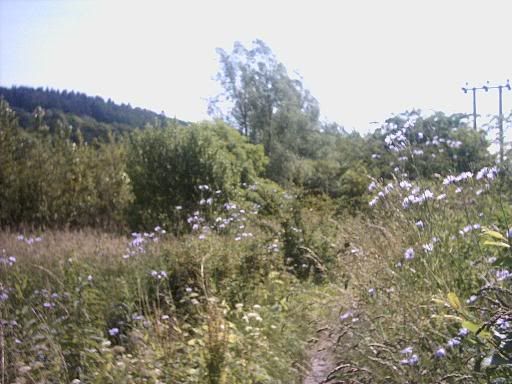 Matt sneezed constantly all the way along and back, and apparently had a lot of flem. At which point I asked him if he were a cobra, he agreed, and we gossiped about other cobras he knew.
Then we fed the donkeys apples. Well, Matt fed one of them, and I held an apple out to the other, who headbutted me in the hand until I dropped the apple, and then he ate it. Oh well.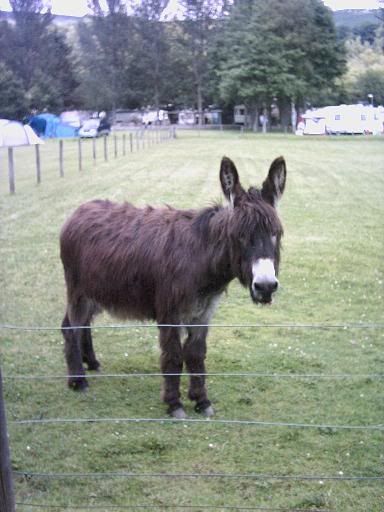 We played another few rounds of X-Treme Ping Pong – probably a bad idea, considering how much my leg hurt. But it was fun nonetheless, and we both expended a lot of energy on it. The 'games room' theoretically has video surveillance, so I can't help wondering what the staff thought of it.
We had another barbeque, went bunny-spotting again, and packed up all our stuff.
Matt's smudgy bunny photos: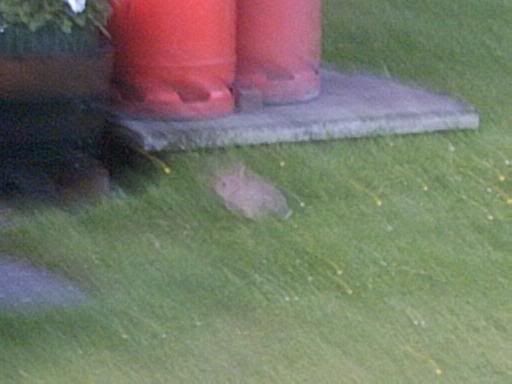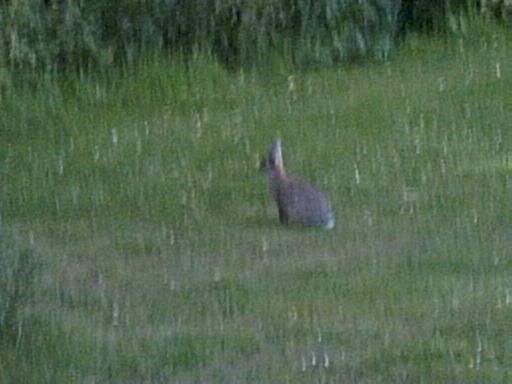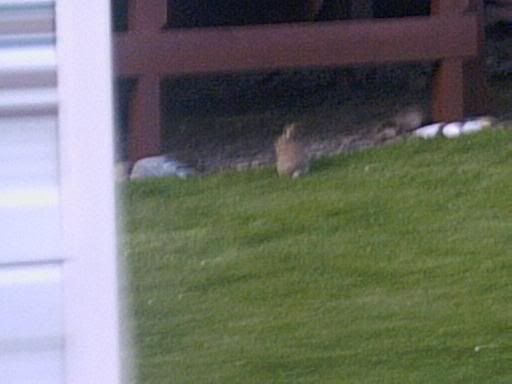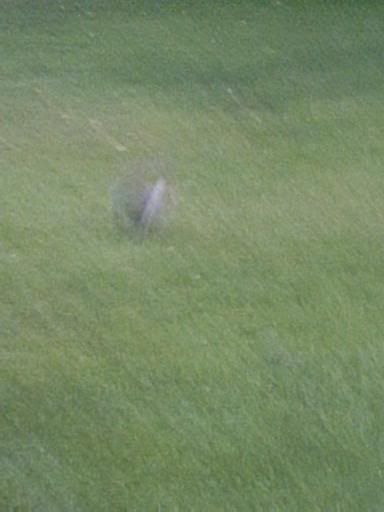 And a smudgy dog photo.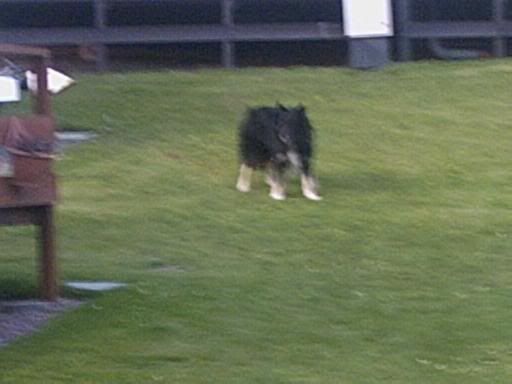 I got a midge bite on my
FUCKING EYELID!
It was a quiet day, but fun.
Flies in drinks today – 6
Total book count – 13
Day Six
We finished packing up, said goodbye to the camp site, and went home.
At one point we saw an injured baby bunny. It seemed like it should recover, though. I hope it does.
Matt wanted to me to take a picture of him by his dam, only to discover that some bastards had taken it apart to try and make their own dam, which sucked. Poor Matt.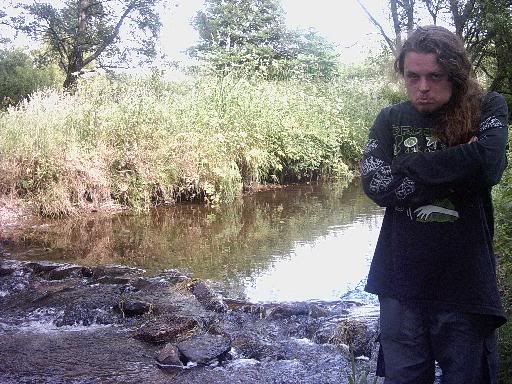 On the bus, we saw a sign for a 'fruiterer and florist'. Surely 'fruiterer' isn't a word?
Some other, random, photos.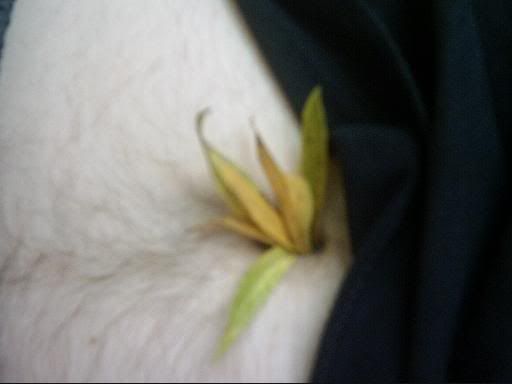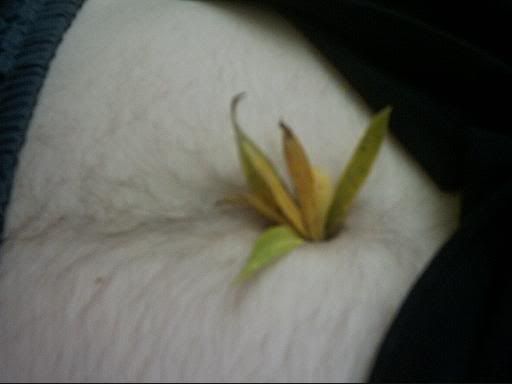 Who'da thunk? Planting leaves in Matt's navel does not produce a tree.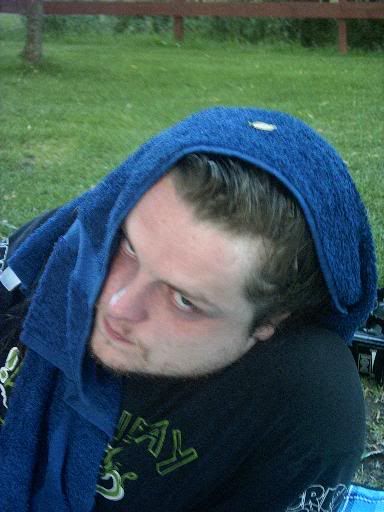 Matt being stern with a towel on his head.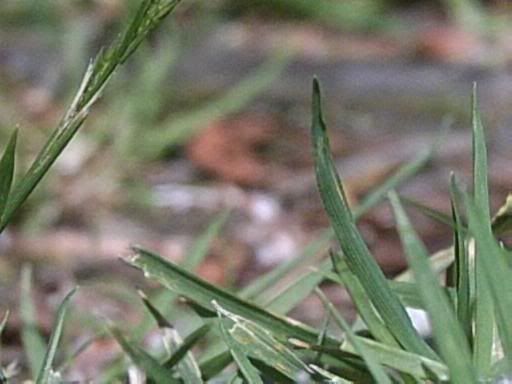 A lovely picture of grass.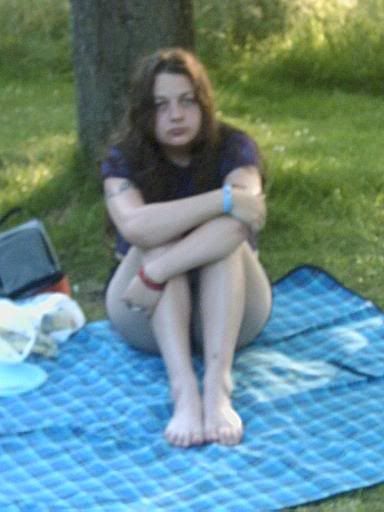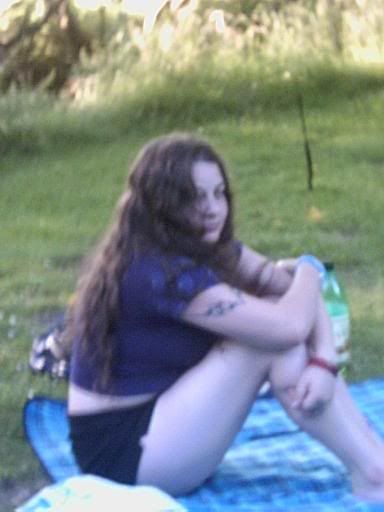 Me hating having my photo taken.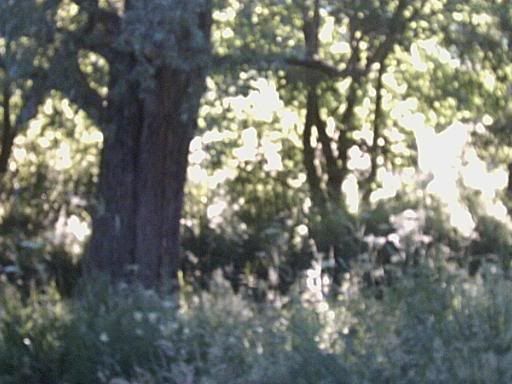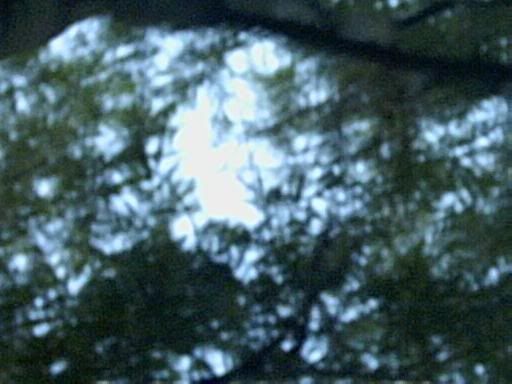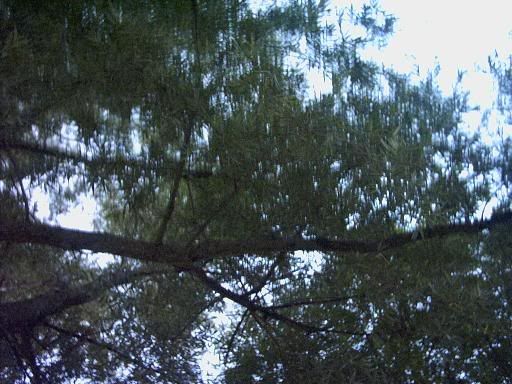 Up through the trees.
It was a lovely holiday, and I hope we go camping again soon.
Herein lies the end of the slightly boring travelogue.